Sunday, April 2, 2023 T-Boy's Bayou Adventure Tour
Sunday, April 2nd
Tours start at: 9:00, 11:00, and 1:00

New Iberia City Park Boat Launch
300 Parkview Dr.

Cost: $30.00
Choose a tour time when purchasing your ticket for this event.
Take a boat ride and get a perspective of New Iberia, Dave Robicheaux's Hometown. A tour on Bayou Teche with a local guide describing its history, efforts to preserve and maintain it, and highlighting points of interest along the way. Sponsored by The TECHE Project.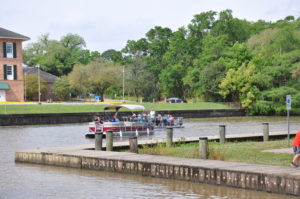 In the event of inclement weather, alternate entertainment will be offered at Shadows Visitor Center. 320 East Main St.
No Refunds will be offered.