Saturday, April 1, 2023
Author's Book Fair
---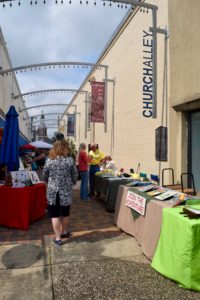 Day of Event Details for Authors
Here is some information that you will need for a successful show.
Maps with the table (author) locations will be available at Books Along the Teche, 106 East Main Street, starting Friday, March 31st, and Saturday, April 1st, 2023, from 9:00 a.m. Someone will be available to go over your location when you pick up your map. We hope to have volunteers available to lend a hand with your set up. Parking will be available at several sites in the area, and parking locations will be noted on the map.
Very Important: The sidewalks are wide, but please be sure that any tent or shade must not block people visiting the tables. Also, no table should block the entrance to a merchant store or business, as all should be open for business during the Authors Book Fair.
Electricity is not available along Main Street.
Authors must bring everything they need, including tables, tents or sun covers, signs, books, etc. and transport materials to and from their car. Event time is 9:00 a.m. to 3 p.m. on Saturday, April 1st. Authors are asked to complete set up before 9:00 a.m. and begin tear-down after 3 p.m.
Any questions, please call Howard at the store at 337-367-7621.
Thanks to all for participating and we hope you have a very successful book sale!
Event Information
Authors are invited to apply to sell their published books on the Saturday of Books Along the Teche Literary Festival, April 1st, from 9:00-3:00.
Authors will set up their own tables at assigned spaces on Main Street in downtown New Iberia, between Iberia St. and The Shadows.
Authors will be asked to submit a digital copy of books covers (jpeg file) to add to the website. Past and current authors are featured on the front page of the web site with a rotating array of book covers. The festival reserves the right to limit the number of book covers displayed on the front page of the web site at any time.
Author Information
All authors with published books are invited to apply.
Table price: $25. All proceeds benefit the Festival.
Authors will be selected and scheduled by committee.
Books must be currently in print, with copies available for sale at the Main Street event; self-published books are welcome.
Questions? Contact Howard Kingston
Main Street New Iberia
Saturday, April 1, 2023
9:00am-3:00pm
The application to be a participating author is here. Print it and mail it in with your application fee.